Gerland Stadium
Matmut Stadium just 2 metro stops away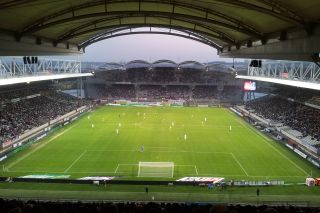 The 4-star Q7 Lodge places you in the heart of a district which, like the rest of Lyon, is both contemporary and authentically full of history. Two metro stops away, still in the 7th district, you will find the Matmut Stadium, (formerly known as the Gerland stadium), another major construction by Lyon architect Tony Garnier, who built the nearby Hall which still bears his name.
Initially designed as part of a larger sports complex, ultimately it was the only construction completed between 1913 and 1926. The multisport "temple" has a gallery based on a circular embankment similar to ancient Olympic stadiums, allowing spectators to watch the athletics, tennis and water sports. A velodrome was even built, but later demolished in 1960.
The Olympique Lyonnais football team became the resident club in 1950, and Gerland Stadium has continued to adapt to the changes brought about by the growing media coverage of football, despite the four great gates designed by Tony Garnier being listed as a historical monument in 1967. In the early 1980s, architect René Gagis oversaw renovations of the stadium ahead of the EURO 84, which involved removing the fencing, the creation of a moat and the position of the grandstands closer to the field. For the 1998 World Cup, architect Albert Constantin further modernised the Gerland Stadium, bringing the northern and southern bends closer to the field, and covering them with a textile metallic structure measuring 4,300 sq. m. each. The grandstands were raised by one floor to create 28 fully equipped boxes. The wooden benches were replaced with individual seats. In 2007, for the first time, the lawn was entirely changed.
In 2015, the Olympique Lyonnais football team left Gerland. The current Matmut Stadium is now residence for the professional LOU Rugby team (Lyon Olympique Universitaire) which has made it to the top 14. It also plays host to major events that combine sports and leisure.