The banks of the Rhone
In the heart of Lyon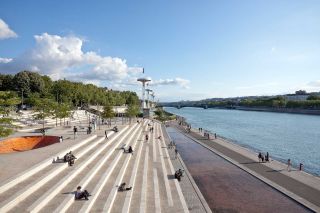 To discover the city, the Parc des Berges along the river banks is a great place to start. A stone's throw from the 4-star Q7 Lodge in the heart of the city, the park is a successful combination of nature and urban living. The terrace and northern garden with its fig trees provides panoramic views over the river and beyond and up to the Fourvière and Croix-Rousse hills. White, grey, and black poplars and aspens were recently planted along the banks of the river. The esplanade and southern prairies also provide a place to relax. The park is an ideal place for joggers and walkers alike. You can follow the river to the Gerland park in the south. The cycling path will take you from the river to the Tony Garnier hall.
Previously reserved for vehicles crossing the city, the banks of the Rhone have been converted into a pedestrian zone. Along 5 km between Raymond Poincaré bridge in the north, and the entrance to the Gerland park in the south, the banks are a lively and varied place to enjoy a stroll. The pedestrian reconversion allows locals and visitors to rediscover this area of the city.
Bicycles, rollerblades, skaters, wheelchairs and walkers all share the space peacefully. There are also areas set aside for playing football and other sports, including pétanque bowls.