Palais des Sports
Close to the hotel and town centre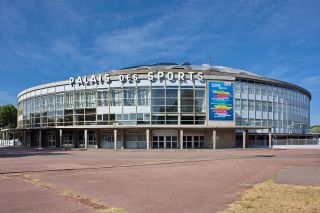 Near the Gerland Lyon Stadium and two metro stops from the hotel, a curious flying saucer, aka, the Palais des Sports, plays host to a wide range of prestigious events.
Built in 1960-1962, the venue can hold nearly 8,000 people. Featuring press areas, VIP spaces and green rooms, two function rooms (50 and 300 sq. m.), the venue can be adapted to host a wide range of sports and cultural events. The venue is host to the professional ASUL Volley-ball-Lyon team, but that's not all. It also features a 400 m athletics track, and can be configured to hold an eleven-a-side football field, 12 tennis courts and a climbing wall. Team and individual sports are at home here, with boxing, ice skating, beach soccer, jet-ski, martial arts, super cross motorbiking and many more.
Alongside all these physical activities, audiences have enjoyed performances by Queen, Genesis, AC-DC, Iron Maiden, Led Zeppelin, Mylène Farmer, Francis Cabrel, musicals, and a remarkable performance by Ariane Mnouchkine's Théâtre du Soleil. The Palais des Sports can even be deployed to host events such as the Miss France pageant, the Employment Forum, political rallies, etc.