Tony Garnier Hall
1.5 km from the Q7 Lodge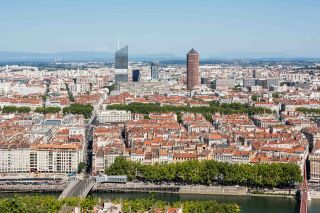 Lyon's famous Tony Garnier Hall was not always the concert venue it is today. Taking a step back in time, we discover the origins of the Hall. In 1905, Tony Garnier - a local of Lyon - was appointed as the sole architect of the future abattoirs and cattle market.
Work began in 1909, before being suspended in May 1914 for the Lyon World Fair, for which the brilliant and talented Tony Garnier was chosen as head architect. When work started again, no sooner had the buildings been completed than they were requisitioned by the French Army in August 1914, which set up an arms factory, munitions warehouse and army barracks. It wasn't until 1920 that the army left the premises, which then needed eight years of work before the buildings could finally host the cattle market they were designed for some 19 years earlier. The hall housed some 4,000 cows, 8,000 sheep and 3,500 pigs in enclosures on either side of the central aisle. Architecture enthusiasts will appreciate the roof structure which provides the building with protection against the elements as well as light and ventilation. The abattoirs operated until 1967, when they had become out of date owing to technological advances and the growing population of the city.
It took 21 years before the abandoned market was renovated and a further 11 years before it would take on its current appearance in 1999. Today, guests can enjoy the latest sound and light technology, the highest acoustic quality you would expect from a performance venue, particularly for concerts.
The Tony Garnier hall is 1.5 km from the Q7 Lodge, a 20-minute walk for the more active visitors.